Advanced technical platform
At the heart of Sercel's nodal system is the DCM–Data Completion Manager, which includes a single, integrated environment from which all the operational aspects of the survey can be monitored. Unique to nodal systems, this platform collects QC information from both the sources and the receivers giving the field personnel a single integrated tool with which to monitor all factors contributing to data quality.
Remote QC monitoring
Our field proven Pathfinder technology allows continuous remote monitoring of spread conditions during operations, either on the line via tablet PC or at the recorder. This real-time QC reporting even allows the operator to be alerted to the presence of external noise sources that have a detrimental effect to the quality of the acquired data.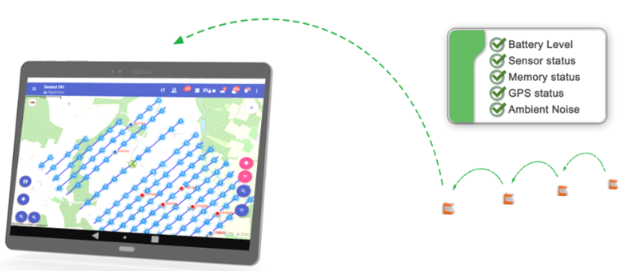 Data access at your fingertips
No need to wait until the end of the survey to properly assess the quality of the seismic data. Portable field terminals wirelessly connect to and harvest data from the nodes (without interrupting production) and allow sample SEGD files to be quickly produced for thorough data quality analysis.
If you're ready to take your land surveys to the next level, we're ready to start the conversation. Contact us today.