Overview
Highlights
Nomad 90 Neo also features a 90,000 lbf hydraulic peak force and an ultra-stiff baseplate to improve high-frequency signal fidelity.
Nomad 90 Neo brings a tremendous productivity gain compared to conventional vibrators, thanks to a very low full-drive start frequency.
Nomad 90 Neo is totally compatible with IPM, a unique option developed for the Nomad vibrator family.
Key Benefits
BEST BROADBAND PERFORMANCE
Stronger low frequency : 5 Hz @ Full drive
High-frequency signal fidelity
MOST PRODUCTIVE VIBRATOR
Highest peak force : 90,000 lbf
Sweep length reduction
OPTIMIZED FOR HSE
Up to 15% fuel savings with IPM
Improved compact design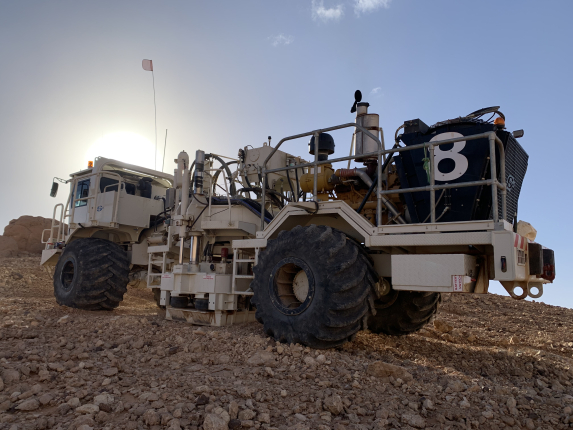 Download
| Category | Name | Language | Publication | Size | Download |
| --- | --- | --- | --- | --- | --- |
| Technical papers | The case for longer sweeps in vibrator acquisition (EN) | English | Dec 04, 2023 | 1.89 MB | pdf |
| Technical papers | Vibrator Evolutions for Broadband Performance: Accomplishments and Remaining Issues (EN) | English | Dec 05, 2023 | 316.48 KB | pdf |
| Technical papers | A High-Density Wide Azimuth 3D Survey in Oman | English | Dec 05, 2023 | 2.61 MB | pdf |
| Technical papers | Low-frequency Vibroseis: current achievements and the road ahead? (EN) | English | Dec 05, 2023 | 2.56 MB | pdf |
| Technical papers | Optimizing the Generation and QC of Low-Dwell Sweeps (EN) | English | Dec 05, 2023 | 1.56 MB | pdf |
| Technical papers | Practical solutions for effective vibrator high-frequency generation (EN) | English | Dec 05, 2023 | 830.18 KB | pdf |
| Technical papers | SmartLF for robust and straightforward reduction of low-frequency distortion (EN) | English | Dec 05, 2023 | 753.04 KB | pdf |
| Technical papers | Vibroseis equipment for efficient low-frequency generation and high-productivity operations (EN) | English | Dec 05, 2023 | 4.31 MB | pdf |
| Technical papers | Mastering the highest Vibroseis productivity while preserving seismic data quality (EN) | English | Dec 04, 2023 | 5.64 MB | pdf |
| Brochure | Nomad Brochure (EN) | English | Dec 04, 2023 | 515.58 KB | pdf |
| Technical papers | SEG Denver Abstract (EN) | English | Dec 04, 2023 | 418.5 KB | pdf |
| Technical papers | Higher Vibrator Hydraulic Force for Improved High Frequency Generation (EN) | English | Dec 04, 2023 | 1.71 MB | pdf |
| Article | Little & Large GeoExpro Oct.15 (EN) | English | Dec 04, 2023 | 805.58 KB | pdf |
| Article | Meeting Industry Requirements for High-end Seismic Projects EAGE (EN) | English | Dec 04, 2023 | 941.31 KB | pdf |